Podcast: Play in new window | Download (Duration: 38:13 — 17.5MB) | Embed
Subscribe: Android | Email | Google Podcasts | RSS | More
Welcome to the Streets of Avalon by the Wednesday Evening Podcast All-Stars. This special re-release is in conjunction with the Streets of Avalon Kickstarter to be produced by Encoded Designs and written by Brett B of Gaming and BS. Enjoy and we look forward to running with you rogues.
The Kickstarter has Begun.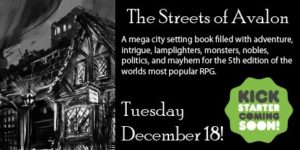 Thanks to Andi from She's a Super Geek, Tom from the Knights of the Knight, Brett from Gaming n BS, and Kevin Lovecraft who has an amazing beard.